Knowledge management certainly isn't a new concept; in-the-know companies have been using tools to manage their knowledge base and systems to drive efficiency and productivity within their organization for some time, particularly as more companies have shifted toward remote and hybrid work models (According to data from Zippia, "around 74% of US companies are using or plan to implement a hybrid work model.")
But without the right strategy, IT leaders are often left scrambling trying to figure out how to effectively implement these systems. According to Zippia, "Companies' average IT spending went up 6.7% from 2020 to 2021 as they continued to adjust to their employees working remotely or on hybrid models."
Not only do businesses struggle with implementation, but often the knowledge bases companies have in place are disconnected, disjointed—and aren't actually making their employees more productive or effective.
Luckily, with the right strategies, you can aggregate those outdated systems and make it easy for your employees to find what they need, when they need it—skyrocketing their effectiveness in the process. So the question is, what, exactly, are those strategies? Let's take a look at how to use knowledge management to streamline your knowledge bases—and empower your team's best work in the process:
The Problem with Your Knowledge Base
Now, if you're thinking "we already have knowledge bases in place!", that may be true—but chances are, those bases aren't supporting the kind of productivity and efficiency you need for your team to perform at the highest level.
Why? Because in order for your team to do their best work, they need to be able to easily and quickly find the information they need, when they need it. But the truth is, most companies' knowledge bases (for example, directories or local file-based frameworks) don't deliver on that promise; they're disjointed, disconnected, and their search functionality just isn't intuitive—and employees spend too much time trying to track down the information they need to perform their job duties.
Just how much time? On average, knowledge workers spend nearly two hours every day searching for the information they need to do their job—and it's your organization that's ultimately paying the price for that lost time. According to data from Panopto, poor knowledge sharing costs US-based companies with around 1000 people, on average, $2.7 million every year—and those losses jump to a whopping $265 million for companies with around 100,000 employees.
Not only are knowledge bases not an intuitive, straightforward way to find, share, and manage information, but they're also expensive and time-consuming in terms of onboarding and management—which produce additional costs (both time and financial) for the organization.
For example, let's say your company currently stores information in a variety of ways and across multiple tools and software—including wikis, a corporate intranet, and a file structure on your local network. If an employee has to track down a file, they're likely to find themselves facing some sort of issue, including:
They have to search each tool separately. There's no way to instantly search across all those tools; instead, they have to individually search through each tool.
Searching can be problematic. Search functionality across those tools isn't intuitive; instead of searching for a specific phrase (like "project management files" or "corporate policies and procedures"), they may have to get creative with their search terms and tactics—which wastes time and energy.
They may find outdated versions of important files. If there are multiple versions of a particular file, employees may have trouble identifying the most recent version—which could mean that they're trying to work using outdated information.
They may not have the access: Being able to access all the files they need can also be an issue. And if they're working remotely, they won't have access to local files if VPN is required—which means it could either prevent them from completing their work or they'll have to 'depend' on someone who may be there locally to forward them the file (assuming it isn't a security risk.)
To be most effective, companies need to aggregate their knowledge bases and embrace a more holistic knowledge management solution—one that empowers easier search and allows employees to easily track down what they need, when they need.
3 Tactics to Improve Knowledge Sharing
With the right knowledge management solution, you can make it easy for employees to find the information they need, using search tactics that feel familiar and intuitive. This encourages a culture of knowledge sharing—and empowers your team to be their most productive, effective, and engaged.
If you're planning on aggregating knowledge bases—and embracing a more holistic knowledge management solution—here are a few things to keep in mind:
Make everything accessible—no matter where employees are working. Remote and Hybrid work is here to stay—so whatever knowledge management system you use, it should allow employees to access the knowledge they need to do their jobs, whether they're working in the office, at home, or in another remote location (like a co-working space).
Make search simple. In order to be effective, your knowledge management tool should mirror the way people actually search. The simpler it is to find what they're looking for, the less time your employees will spend searching for or managing information—and the more productive they'll be as a result.
Make the knowledge management system (KMS) easy to use and easy to remember. In order for knowledge management to empower employee productivity, employees need to use it—and if you want them to use it, it needs to be easy to navigate. Look for tools that are simple to implement and simple to use; if it's too complicated, your employees won't use it—and your organization won't reap the benefits.
GoLinks can help you better manage knowledge within your organization by connecting your knowledge and helps to remove silos to empower your team to become more productive. With easy-to-remember short links, employees can easily store, manage, and share information—and quickly access information when they need it. Plus, GoLinks is incredibly easy to implement—no expensive setup or upkeep required. Interested in seeing more? Check out how Hopin uses GoLinks to aggregate their knowledge base in Guru with GoLinks.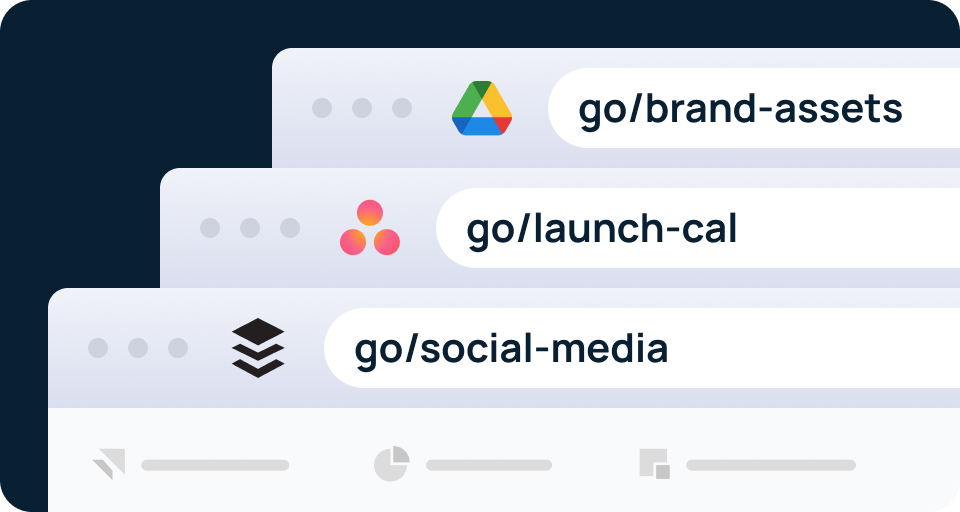 Use Knowledge Management to Empower your Team's Best Work
If companies want to empower their teams to be more productive and effective, they need to aggregate their knowledge bases and make it easy to store, manage, and share knowledge—and the right knowledge management system, like GoLinks, is the way to do it.
Knowledge Management is a must for organizations looking to manage their assets in one secure platform. Want to experience how GoLinks can empower your team's best work? See for yourself with our free trial version, or request a demo below!